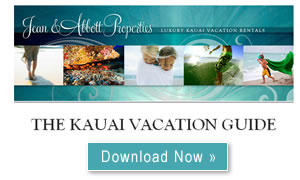 What's Your Pleasure
Have you always wanted to learn how to surf, take your very first 'up close and personal" look at a pod of spinner dolphins, take a sunset cruise along the magical Napali coast, or kayak Hawaii's only navigable river to an awaiting waterfall?  Has an island wedding or honeymoon, been your dream?  Jean and Abbott Properties has the right connections to put together an unforgettable, one-of-a kind experience for you and your beloved.  You deserve to be pampered with an incredible lomi-lomi massage, or your very own romantic home cooked dinner and music interlude "Hawaiian style" with that "special someone."  The Kauai Vacation Guide can help set it all in motion.
Your Personal Concierge to the Magic of the Garden Island
You will find a wide array of suggested services and adventures from which to choose in The Kauai Vacation Guide.  Make just one phone call and we'll do the rest, saving you time for the more important 'job' of relaxing and enjoying every moment of your Kauai vacation.
A Full-Service Kauai Vacation Company
Jean and Abbott Properties is your personal concierge and guide to your island "wish list".   Please call (808) 631-5771 or email info@Jeanandabbott.com to advise us of your activity choices, dates and times.  Remember if you don't find what you are looking for in our Kauai Vacation Guide, let us know as we are happy to research it for you and give you our recommendations!