If you've ever visited Kauai, then you most certainly can't wait to come back.  If this is your first time visiting the Island, then no doubt you are filled with anticipation and excitement.
The oldest and 4th largest island in the Hawaiian chain, Kauai is a lush paradise fondly known as the "Garden Island".  One of the least populated Hawaiian islands, and famous for its raw and breathtaking beauty, Kauai has a variety of climates and stunning geological features ranging from desert to rain forest, a mini-Grand Canyon, waterfall laden cliffs and coastlines and the largest white sand beaches in the state. Whether you experience Kauai by land, air or sea or the comfort of your chaise lounge on your lanai in one of our luxury Kauai Vacation Rentals, Kauai has something to offer  everyone.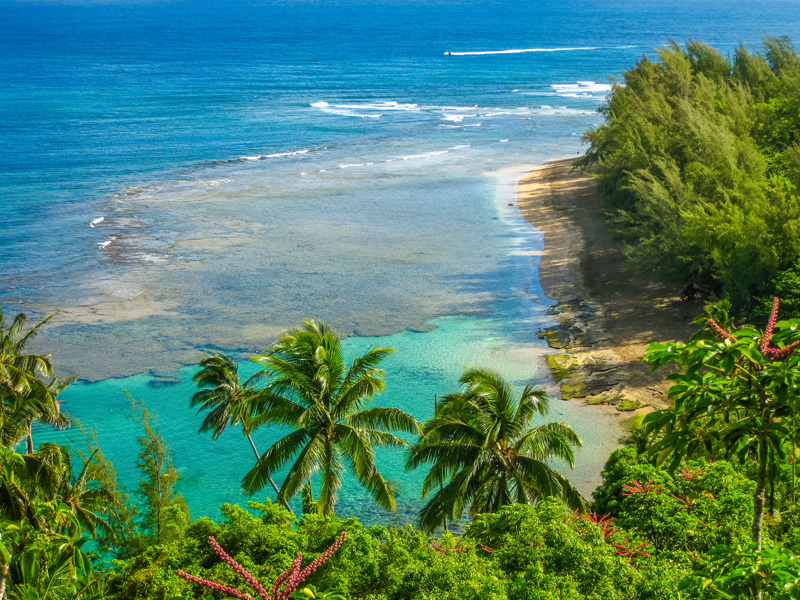 Prepare to Unwind & Decompress
Be prepared to unwind and decompress from frenetic city life, the only crowds you'll experience on Kauai are the throng of locals and visitors at the weekly outdoor farmer's markets.  December through April each year the Humpback Whales make their migration to our warm Hawaiian waters to mate and give birth. Many coastal areas of Kauai offer ideal vantage points to observe these "gentle giants" as well as dolphins and turtles as they frolic in the ocean.
You might find the following links and phone numbers helpful when planning your Kauai vacation.
Kauai Links:
Kauai Phone Numbers: (Area Code 808)
-Lihue Airport: (808) 246-1448
-Kauai Visitors Bureau: (808)245-3971
-Kauai Visitor Information: (800) 262-1400
-Kauai Bus: (808) 241-6410
-Marine Forecast: (808) 245-3564
-Camping Permits: (808) 241-4463
-Non Emergency Reports:  (808) 241-1711
-Police, Fire, Ambulance: 911
-Time of Day: (808) 245-0212
-Weather Forecast: (808) 245-6001
-Wilcox Memorial Hospital: (808) 245-1100
-Kauai Veterans Memorial Hospital: (808) 338-9431
– Marriage License and Civil Unions: (808) 586-4545
Kauai Vacation Blog
Our Kauai Vacation Blog is the perfect place to visit often to learn more about all that Kauai has to offer for your next Hawaiian vacation.  Visit the Jean & Abbott Properties Kauai Vacation Blog and get answers to your questions about the best things to do and see on your next visit to the Island. The Kauai Vacation blog features articles and information on the following topics:
Getting to Kauai
The tropical paradise of Kauai basks amidst the sparkling blue waters of the Pacific Ocean, about 20 minutes by air from Honolulu, Hawaii. Formed over six million years ago, the Island encompasses roughly 550 square miles and is the oldest and northernmost of the main Hawaiian Islands. To visit Kauai is to quickly lose yourself in the quiet majesty of the Island's lush tropical setting and extraordinary natural heritage.  Come, discover the legendary aloha spirit that abounds in this friendly Garden Island paradise.   To learn more about Kauai, also visit our area-specific pages below: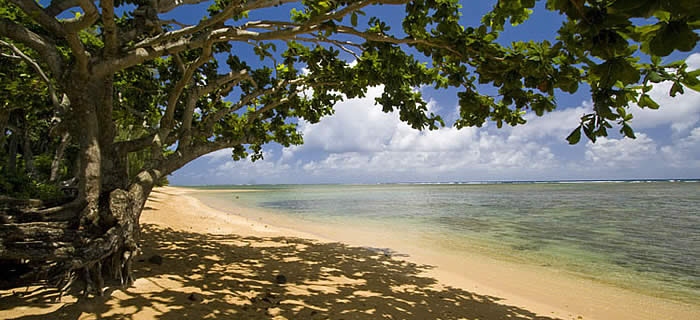 Anini Beach is a highly desirable area positioned peacefully along Kauai's largest protected reef. Anini Beach is one of the safest places on the north shore to swim and snorkel year-round.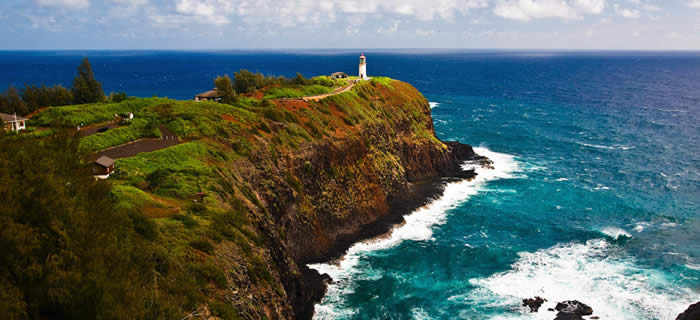 The Kilauea township and outlying areas mark the beginning of Kauai's North Shore. Not far from the ocean bluffs near Kilauea Lighthouse sits Kilauea town featuring a collection of beautiful plantation-era lava rock buildings, which are filled with boutique shops, a wonderful bakery, and a number of small businesses.
A small oceanfront, residential community situated about 4 miles beyond Hanalei. Haena is one of the most beautiful and serene places on the planet, where you will discover waterfalls, lush tropical jungles, gorgeous beaches, fabulous hiking trails, and colorful sunsets.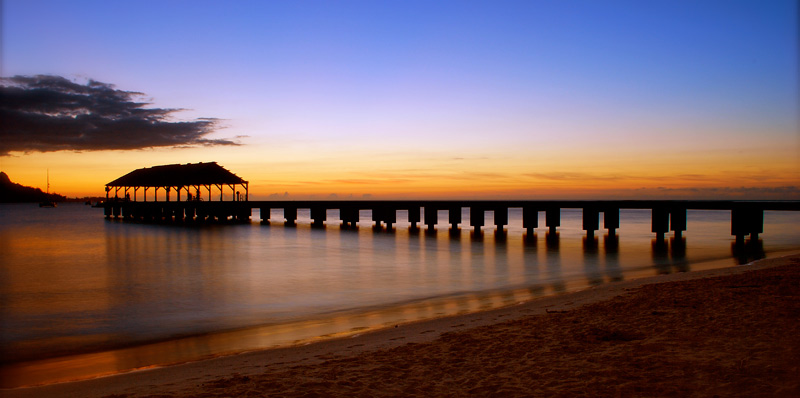 A quaint and beautiful town on the northern coast of Kauai. Our Hanalei rentals are located along a two mile crescent of the white sandy beaches of Hanalei Bay set against a stunning backdrop of 5,000 foot high mountain peaks and waterfalls…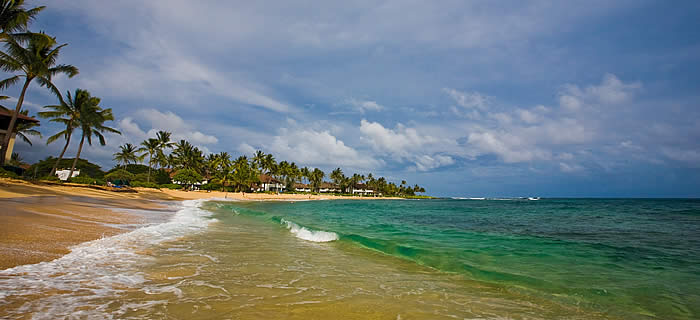 Poipu is located on the Sunny south side of Kauai, a resort community not far from Koloa Town. Enjoy fabulous snorkeling, diving, surfing and world class golf.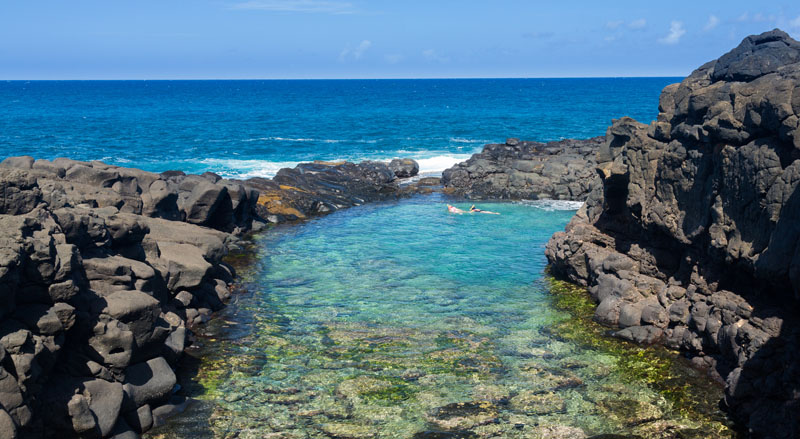 Princeville is Kauai's destination resort community, and what many consider as the 'place' for the very best golf courses in Hawaii. Our Princeville vacation homes are situated on a large plateau overlooking Hanalei Bay and the multi-hued reef of Anini Beach.

A peaceful rural community centered around extraordinary agriclutural land and the stunning and pristine white sand beaches of Anahola. Enjoy uncrowded beaches, world class mountain biking trails, and the best hamburgers on the island!
Save
Save
Save
Save