The tropical paradise of Kauai basks amidst the sparkling blue waters of the Pacific Ocean, about 20 minutes by air from Honolulu. Formed some six million years ago, the Island encompasses roughly 550 square miles and is the oldest and northernmost of the main Hawaiian Islands. To visit Kauai is to quickly lose yourself in the quiet majesty of the Island's lush tropical setting and extraordinary natural heritage. Come, discover the legendary aloha spirit that abounds in this friendly garden island paradise.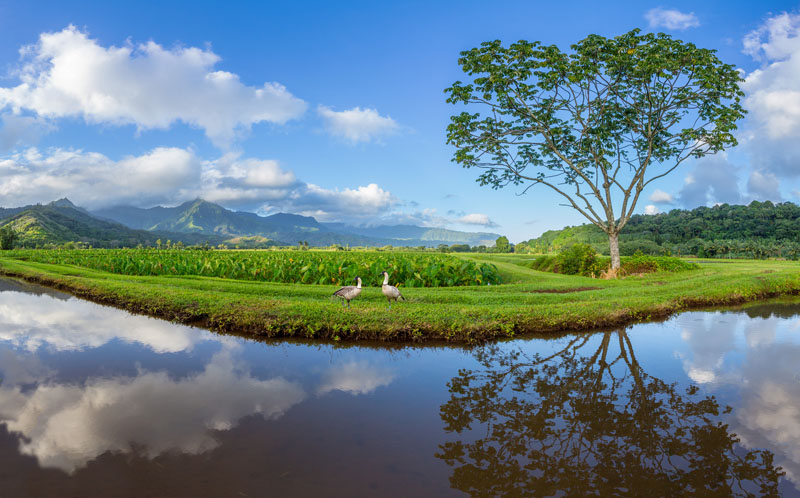 Why Kauai?
The oldest and 4th largest island in the Hawaiian chain, Kauai is a lush paradise fondly known as the "Garden Island". One of the least populated Hawaiian islands, and famous for its raw and breathtaking beauty, Kauai has a variety of climates and stunning geological features ranging from desert to rain forest, a mini-Grand Canyon, waterfall-laden cliffs and coastlines and the longest stretches of white sand beaches in the state. Whether you experience Kauai by land, air or sea or from the comfort of your chaise lounge, Kauai has something to offer for just about everyone.
The Ultimate Island Vacation
Be prepared to unwind and decompress from frenetic city life, the only crowds you'll experience on Kauai are the throng of locals and visitors at the weekly outdoor Kauai Farmer's Markets.   Each year from  December through April the Humpback Whales make their migration to our warm Hawaiian waters to mate and give birth. Many coastal areas of Kauai as well as our ocean front Kauai vacation rental properties offer ideal vantage points to observe these "gentle giants".  Dolphins and turtles can also be seen as they frolic in the ocean.   Kaua'i is a truly unique place, guests to the Island recognize this immediately. There are plenty of places in the world featuring sun and sea, but no other place offers the incomparable beauty, lushness and serenity of Kaua'i.
Large Selection of Kauai's Finest Properties
Jean & Abbott Properties offers over 200 of the finest Kauai vacation rentals, located throughout the desirable coastal and beach communities of the Island.  Whether you are looking for a beachfront cottage, ocean bluff villa or luxury Kauai condo rental we can help you choose the property that is just right for your and your family or group.  We offer personal concierge services to ensure that all the details of your Kauai vacation is exceptional!    We look forward to welcoming you to Kauai.
Choose an Area Below
…to browse our large selection of luxury Kauai vacation rentals and to learn more about the area. Start planning your Kauai vacation today!  Visit our Frequently Asked Questions section to find answers to your Kauai vacation questions.
Save