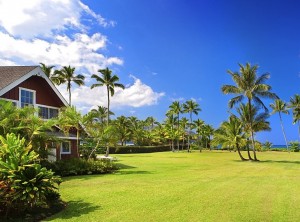 A hundred years ago, a few privileged Kauai residents built summer homes on large beachfront lots on Hanalei Bay.
Today, many of the large estates are gone – but the historic Faye house, on an expansive green lawn sloping to Hanalei's white crescent beach, retains the expansive feeling of days gone by.
This is the kind of home you can enter with sand on your feet. Get comfortable. Let the stress of modern life melt away as you relax on the lanai. Take a nap in a hammock under rustling palms. Listen to the sound of the waves caressing the shore.
Emerald mountains, waterfalls and rainbows. Surfing, sunning, swimming, shelling… if there's a better place for a vacation, we honestly don't know where it is.
The Hanalei House is perfect for reunions, gatherings, or weddings. Need to sleep more than 12? The adjacent one bedroom Hanalei Cottage sleeps three.
Tags: hanalei vacation rental, Kauai vacation rental
Author
| Shelah Jean Abubo
Shelah Abubo
is the owner of Jean & Abbott Properties a Kauai based rental agency specializing in luxury
Kauai Vacation Rentals
. Born & raised on Kauai, Shelah knows the Island intimately and has found her passion in sharing her knowledge and expertise with island travelers and guests.