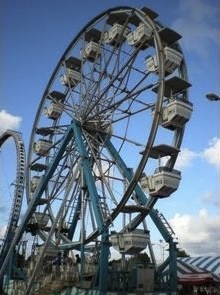 Well, we may not have the biggest pumpkins, but wait till you see the size of our breadfruit!
The Kauai County Farm Bureau Fair at Vidinha Stadium in Lihue is a chance for local farmers to show their stuff – and an opportunity for Kauai kids and visitors to enjoy carnival rides and all the junk food they can eat.
(I can't believe I said that… but seriously, cotton candy is okay once a year, don't you think?)
Stroll down the Midway just after sunset on a late summer evening (my favorite time) – there's live entertainment plus games, circus acts, a petting zoo, 4-H displays and much more. This year's theme is "We Are Family" – and there really is something for everyone, from honey tastings and hypnotists to poi-eating and pie-baking contests.
Adult admission is $4 and children are $2 (and the first 200 keiki each day are admitted free). See you there!
August 25: 6pm – midnight
August 26: 6pm – midnight
August 27: noon – midnight
August 28: noon – 11 pm