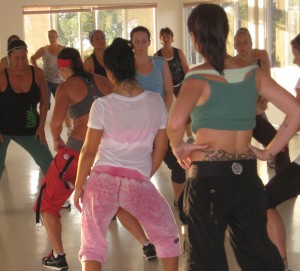 On Kauai, that is? Or you think the only dancing we do here is the hip-swaying-hula kind?
Nothing could be further from the truth. Welcome to the ZUMBA Nation.
ZUMBA is the Latin-dance inspired workout that's inundated Kauai like a dance tsunami. From teens to grannies, it seems like everybody's doing it: hooting and hollering and mostly… sweating.
Abs-of-steel instructor Alana Brennan (is she dancing, or is that flying?) is not shy about discussing – or demonstrating – the fine art of hip and pelvic thrusts, as she whips her students into a tribal, tropical frenzy that's more like a flash mob than a normal dance class.
This is one of the most fun things to do on Kauai: because there's no wrong way to Zumba. Everyone works at their own pace: "If you're sweating and smiling, you're doing it right," Alana says.
Classes are happening island-wide – find schedules at ZUMBA Kauai or ZUMBA.com