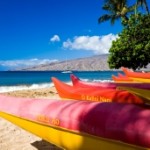 The fun-loving lifestyle and happiness so well-known among Hawaiians is demonstrated in their love of water sports– which is why Hawaii is home to surfing!  Even the Hawaiian Royal Family treated their Islands as a playground– the royal coconut grove in Waikiki was the place where the royals went surfing and outrigger canoeing!
"HO'OMOE WAI KAHI KE KAO'O" : Let's all travel together like water flowing in one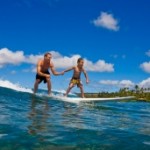 direction.
Live in Haramony with other people and the world around you– Live in Harmony with your own beliefs and aspiration– It takes a drop of Inspiration to start a river of dreams!
Tags: Daily Dose of Aloha, Hawaii Royal Family, Hawaii Surfing, Hawaii Water sports
Author
| Shelah Jean Abubo
Shelah Abubo
is the owner of Jean & Abbott Properties a Kauai based rental agency specializing in luxury
Kauai Vacation Rentals
. Born & raised on Kauai, Shelah knows the Island intimately and has found her passion in sharing her knowledge and expertise with island travelers and guests.